KEEPING PERSONNEL AND EQUIPMENT SAFE
KevLok Tie-Down Shelving pieces combine to create workstations and storage areas that safely secure equipment in place during transit over difficult terrain or through rough weather. Accordingly, KevLok shelving is a large benefit to any mobile setting, such as onboard ships, aircraft, or in military and law enforcement mobile command-center trailers and vehicles.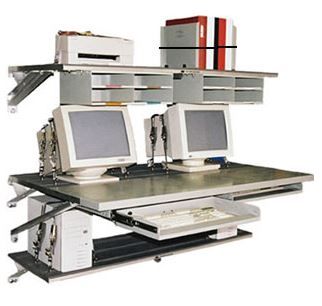 QUALIFICATIONS
AGM's KevLok tie-down shelving meets the Navy MIL-S-901D requirements for Grade A, Class I equipment, medium and lightweight shock tests for shipboard use. Furthermore, the Load Rating, as it relates to the shock specification IAW MIL-S-901D, is approximately 40lbs. per square foot.

KevLok shelving onboard the U.S.S Gerald R. Ford


WATCH KEVLOK SHELVING PASS THE HAMMER TEST

COMMON SHELVING APPLICATIONS
KevLok shelving is typically used to secure electronic equipment, as well as hardcopy files, binders, or books in workstations aboard U.S. Navy ships, U.S. Marine Corps portable shelters and command centers, and may also be similarly used for both law enforcement and civilian purposes.
TIE DOWN SHELVING DESIGN AND OPERATION
KevLok tie-down shelving is designed with vinyl-padded lightweight aluminum and recessed channels to accommodate KevLok tie-down straps with quarter-turn end fittings for quick attachment, release, and workstation configuration. Straps adjust from 11" to 60".
KevLok tie-down shelving can be installed with quick-adjust shelving brackets and ISO track (also known as slot and hole tracks) to create storage shelving or workstations that are quickly and easily reconfigurable.
A typical workstation may include:
Writing surface with two keyboard trays
Overhanging shelving unit with file trays; and
Lower shelving unit for storage.

Quick-Adjust KevLok Shelving Assembly Drawings


Standard KevLok Shelving Assembly Drawings

TIE-DOWN SHELVING PIECES
Shelving is available in lengths from 12" to 144" and in widths from 12" to 36"; however, custom sizes are available. Tie-downs are available as quick-disconnect loop straps with ratchet fasteners or as quick-disconnect KevLok fastener straps with quarter-turn end-fittings.
Quick-Adjust Brackets and Tracks
Quick-adjust brackets are available in either 12" x 12" or 12" x 18" configurations and can be adjusted vertically in 1" increments so that shelving can be placed as close as 12" to each other or above the deck. Three different cross sections of track are available in lengths up to 72".
Corner Units
KevLok shelving corner units are approximately 30" deep at the center and shelves extend 23 ½" in each direction, as measured from the inner corner.
Writing Surfaces
Similar to the shelving units, writing surfaces are available between 12" and 18" deep. Writing surfaces are available in a wide variety of lengths (custom sizes are available upon request) and come with pull-out keyboards trays, one keyboard tray is supplied for every 30" of writing-surface length.
Organizers
In addition to shelving and workspace surface area, file trays and bookends are available.
MORE INFORMATION
For more information about AGM's KevLok shelving or for help designing the workstation that is right for you, send us an email here or give us a call at (520) 881-2130. Hours o operation are 8:00 a.m. to 5:00 p.m., Monday through Friday, Mountain Standard Time (MST).