Whether it's simply moving furniture and boxes across town to a new house or hauling cargo and heavy equipment across the country, tie-down straps are an essential part of getting any job done safely. However, there are several different kinds of buckles used in tie-down assemblies to create and maintain tension on a load, and knowing which buckle to use is widely dependent upon the cargo being hauled.
Below is an overview of 3 common tie-down strap buckles and their uses.
Ratchet Buckles: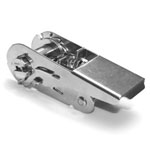 Ratchet buckles are possibly the most well-known of all tie-down strap mechanisms. Consisting of a round rotating gear, pawl, and lever, a ratchet buckle provides an easy method for tightening and securing a load during transport. While ratchet buckles provide superior tension compared to other buckles, the ratchet buckle frame may come into contact with the sides of the cargo or vehicles, damaging it during motion. In addition, it is easy to overtighten a load with a ratchet buckle, which may cause further damage to both the cargo as well as to that which the cargo is anchored.
Common Uses: Securing Large Furniture, Building Materials, and Recreational Vehicles.
Surprising Uses: Slacklining and Securing Beehives for Relocation.
For an example of a ratcheting buckle and its operation, see AGM's demonstration video.
Cam Buckles: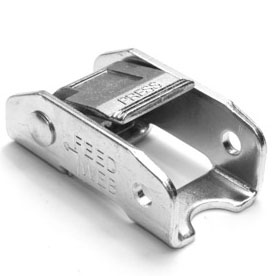 Less known than ratchet buckles, cam buckles are most often used to safely secure light and fragile cargo. A cam buckle operates by the user depressing and opening the "cam" mechanism, threading the strap through the bottom of the buckle and then pulling the strap to the desired tension before releasing the cam to secure the strap in place. Thus, cam buckles are generally inappropriate for larger loads due to their tension being dependent upon a user's ability to pull the strap tight.
Common Uses: Securing Glass and Ceramic Objects, Small Antiques, and some Yard Debris.
Surprising Uses: Securing Bicycles and Canoes to Cargo Racks.
For an example of a cam buckle and its operation, see AGM's demonstration video.
Over-Center Buckles: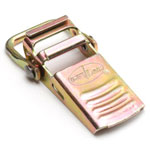 Best suited for applications where small cargo or objects, such as coolers and vehicle batteries, need to be held in place for long periods of time, over-center buckles are constructed of a one-piece base and lever arm assembly that allows for a strap to be wound through it when the fastener is in an open position. After pulling the slack out of the strap, a user can then close the buckle assembly, which, in turn, will add tension to the strap and lock firmly in place. In addition, this process will place the strap underneath the buckle, providing a layer of padding against the buckle and its cargo.
Common Uses: Securing Boxes, Vehicle Batteries, as well as Gas Cans or Portable Storage Containers.
Surprising Uses: Hauling Kayaks, Cargo Bags, and Work or Camping Equipment.
For an example of an over-center buckle and its operation, see AGM's demonstration video.
Additional Resources: