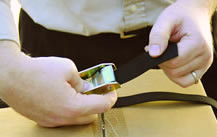 Step 1
To thread cam buckle, depress lever and pull webbing up through opening.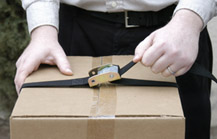 Step 2
To tension, release lever and pull webbing.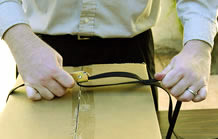 Step 3
Webbing length can be adjusted by depressing lever and pulling webbing.
Video Transcript
To thread the cam buckle, depress the lever and pull one end of the strap up through the bottom of the fastener.
Then, release the lever and continue pulling the strap until it is suitably tight.
To release tension on the strap, depress the lever and pull the strap from the bottom of the cam buckle.
Looking for custom Kevlok Tie Down Straps?
We manufacture our straps here in the United States and have over 40 years of experience.