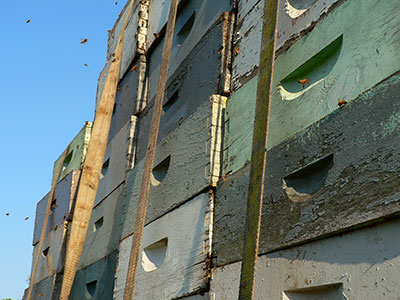 Now there is a method of securing your beehives during transport that:
Won't damage your beehives
Doesn't require any tools
Is adjustable
Won't aggravate your bees
Doesn't rust
Holds constant tension
Is reusable
Won't decrease load capability
Won't loosen its tension on a sunny day
Is unaffected by mud, water, sand, snow, hot or cold weather
Now consider the alternatives, all of which have distinct disadvantages and can't be applied as easily as the KEVLOK® strap.
Metal banding requires expensive and cumbersome tensioners, crimpers, crimp fasteners, rolls of banding, roll holders and banding cutters. There is an ever-present risk of cutting hands and clothing and since metal banding is affected by temperature, it will loosen its tension on warm days.
Plastic banding grows brittle due to use and exposure and it will not hold tension for extended periods. It can stretch, crack if stepped on or split lengthwise. It also requires banding tools for tensioning. Neither plastic nor metal banding are environmentally friendly since there is a tendency for the scraps to get left behind in farmers' fields.
As for Staples and Wood Cleats, the need to repeatedly pound in and pull out nails or staples eventually destroys expensive woodenware (supers, brood boxes and bottom boards). Accordingly, the lifetime of a maintained super is reduced from at least 20 years to 5 or 6, not to mention the aggravation to the bees caused by pounding.
So to save time and money, use KEVLOK straps on your hives.
Three configurations are available to meet your needs: