Adapting your business model
While numerous large, volume companies have shifted towards offshoring and outsourcing practices to cut production costs, other companies in the U.S. and elsewhere have adapted to be more flexible in their manufacturing processes to manage costs and broaden their customer bases.
These High-Mix/Low-Volume companies adjust setup and processing procedures to create simplified workflows by implementing lean practices into assembly procedures. As a result, High-Mix/Low-Volume manufactures have become more capable of withstanding economic downturns and changes in market spending.
What is a High-Mix/Low-Volume manufacturer?
A High-Mix/Low-Volume manufacturer is a company that produces small quantities of many different, though often related, products. These products are generally easily made-to-order to accommodate a large customer base.
What prompted the shift to High-Mix/Low-Volume processes in the U.S?
The U.S. High-Mix/Low-Volume manufacturing trend has become more and more prevalent since the late 1970's when U.S. High-Volume/Low-Mix companies, such as General Electric and General Motors, began to use offshoring and outsourcing business strategies as a way to offset production costs.
What are the benefits?
High-Mix/Low-Volume companies supply to multiple markets instead of relying on a single source for revenue, making them more financially resilient in difficult economic times, or during a major customer crash.
In addition, High-Mix/Low-Volume companies can often take advantage of contract work for limited or small quantity product runs from High-Volume/Low-Mix companies, which may be either domestic or foreign.
This flexibility provides High-Mix/Low-Volume companies the ability to make investments and continue to grow.
What are some drawbacks?
High-Mix/Low-Volume companies have some difficulties in the manufacturing processes, such as balancing capacity due to unequal worktimes for each product. These processes often require careful management by experienced supervisor to succeed.
In addition, employee training standards are often difficult to balance, which can cause production holdups due to personnel shuffling unless closely attended to by management.
High-Mix/Low-Volume companies must always be looking for other customers as a way to increase sales as well. This is not necessarily a problem shared by High-volume/Low-Mix companies.
A History of AGM: the Road to Success
In 1992, after 22-years in business, AGM's revenue was roughly 90% dependent on government defense spending. As a result, when government spending shifted away from defense during the early '90's recession, AGM was unable to compensate and was forced to lay off over 30% of its personnel.
It was at this time that AGM's management made the decision to seek a more diverse market through a wider, more customizable product range. This was a significant step in AGM's transformation into a high-mix/low-volume manufacturer.
After the 1992 layoff, AGM management analyzed the company's facilities, capabilities, and products, and discovered that AGM could easily produce customized product versions. Furthermore, other similar products could be manufactured that would be attractive to markets outside of the defense sector. Among others, these new markets included the automotive as well as shipping and logistics sectors.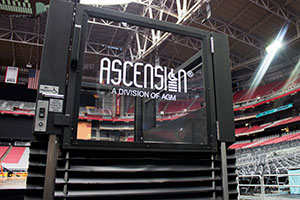 AGM also branched out into vastly different markets. The company began to use its production capabilities to produce wheelchair lifts in support of the Americans with Disabilities Act (ADA), which was signed into law in 1992. Eventually, AGM's wheelchair lift sales department became so large it was officially established as its own division, known as Ascension.
AGM's transformation to a more diverse and flexible manufacturer took nearly three years. Throughout that time, AGM worked tirelessly to forge new market place relationships and engineer new products to fit their new market demands. Finally, the company was able to stabilize, and has since grown exponentially, generating $21 million in revenue in 2015.
How has AGM benefited from becoming a High-Mix/Low-Volume manufacturer?
Expanding its operations into a High-Mix/Low-Volume manufacturing platform has provided AGM greater flexibility and resilience in both the American and global markets. Currently, AGM produces hundreds of customizable products and distributes many more to serve the needs of an expanding customer base. Doing so has afforded AGM the economic security to make investments and take the risks necessary to grow its business without relying on a single prime customer for revenue.
As AGM celebrates its 47th year in business in 2017, the company looks back on its only layoff with trepidation. The event's severity looms as a constant reminder that AGM and other businesses must remain proactive, innovative, and high-performing in order to survive. Though the lessons learned from AGM's layoff were difficult, they have kept AGM in business through recessions, modern day economic trends in offshoring and outsourcing, and continual shifts in market demand and spending as well.