Advancing Education, Building Community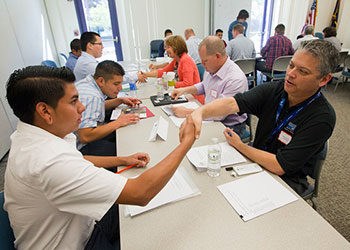 As a way to solve the growing skills gap problem facing the industrial and technology business sectors, Tucson-based design and manufacturing firm AGM Container Controls, Inc. (AGM), has partnered with Pima Community College (PCC) to promote corporate-sponsored educational reimbursement programs.
In accordance with this partnership, Howard Stewart, AGM's President and CEO, recently presented to over 200 Tucson business and community leaders at the PCC Foundation's "Building Community" breakfast event.
"AGM's policy is to reimburse our employees for any and all coursework that they choose to take, even when such coursework isn't directly work-related," Stewart said. "As a testament to the effectiveness of this policy, AGM has experienced strong productivity gains per employee, such that AGM's 2015 revenues per employee were up 75%, from the $120,000 per employee we achieved in 2003."
During his presentation, Stewart emphasized that corporate-sponsored educational reimbursement programs cultivate more than independent company workforces; they foster healthy economic development throughout a community.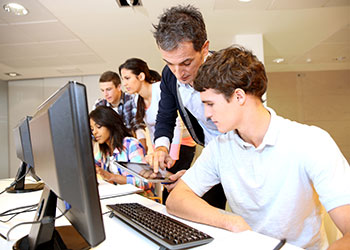 "My reason for supporting non-work-related degree paths is that our community is in desperate need of all sorts of professionals…these employees are still taking classes in the areas of math, English, technology, business, logistics and science, all of which are skills that will help any organization to succeed and grow."
Stewart also cited Tucson's projected 2017 job growth as an indicator for the immediate need of skilled employees capable of advancing any organization; especially leading technology and manufacturing companies.
According to a recent Tucson News Now report, Raytheon Missile Systems, a leading Tucson-based manufacturer, is adding 2,000 jobs beginning in 2017. Similarly, heavy equipment manufacturer, Caterpillar Inc., is bringing jobs to Tucson. In addition, the article cites Comcast, Ascensus, and a half dozen other companies that are projected to increase job creation and economic development in Tucson.
"When I first became a CEO 17 years ago, I saw little need to team with outside educational institutions." Stewart said, recalling his own company's struggles and the motivation to implement a company education program. "However, as my company has continued to grow…I've come to realize that my organization has an exponentially increasing need for a talented workforce."
The Bureau of Labor Statistics reports that there are 5.7 million available job positions in the U.S. as of the last day in February, constituting a job opening rate of 3.8%. Despite these seemingly positive figures, the Harvard Business Review (HBR) reported that 39% of U.S. employers poled in 2014 reported difficulty hiring for available positions due to trouble finding applicants with the necessary skills for the position. However, HBR's figure is low when compared to some other sources, such as INC. Magazine, which reported that 53% of small business leaders have been experiencing staffing difficulties in recent years.
"…the need for highly skilled workers is growing fast," Stewart said. "However, it's unclear where these future employees will come from. What I do know, however, is that the people who lack such skills, as well as the organizations that can't find the requisite talent, will be the losers in this economy."
Stewart continued, adding "That's why AGM has used an educational reimbursement program to cultivate its workforce since 1998."
Stewart's presentation at the PCC Foundation's breakfast event is the first in what is to be many similar presentations that he will conduct in cooperation with the PCC and Lee Lambert, the PCC's Chancellor. The PCC will be scheduling Stewart to present at executive networking events across Tucson, beginning this summer.
Stewart encourages any interested parties to contact him at AGM with questions about implementing an educational reimbursement plan, or how such a plan benefits companies as well as communities.