AGM Container Controls (AGM) is announced as a finalist for the Innovator of the Year award at the upcoming 13th annual Governors Celebration of Innovation (GCOI) in Phoenix, Arizona. Sponsored by the Arizona Technology Council (AZTC) and the Arizona Commerce Authority (ACA), the GCOI is a celebration of Arizona's technology visionaries whose dedication drives the growth of Arizona's tech industry.
President and CEO of the Arizona Technology Council, Steven G. Zylstra, said in a press release announcing GCOI finalists, "These awards represent brilliant, dedicated individuals and companies who work hard to ensure we are building an Arizona economy based on innovation."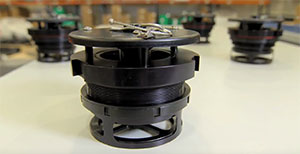 AGM has been a leader in the manufacturing and design of environmental control hardware for the U.S. military, aerospace, and shipping industries since 1970. As such, AGM was honored with a Pioneering Innovation award at the GCOI in 2005. If selected for Innovator of the Year, it will mark the second award AGM has received from the GCOI in recognition of innovation excellence.
The event will take place Thursday, November 10, 2016 at the Phoenix Convention Center (PCC), 100 North Third Street, in the West Building from 4:00 p.m. – 8:00 p.m. Mountain Standard Time (MST). The theme for this year's celebration is "Inspiring Growth" and will bring together over 1,000 of Arizona's business and technology leaders. For more information about the GCOI or to purchase tickets for the event, visit the AZTC website.