AGM Container Controls (AGM) has been confirmed as the longest running member of the National Federation of Independent Business (NFIB) in Southern Arizona.
"AGM is a shining example of business success in Arizona," says Chuck Pritts, a membership representative with the NFIB. "The outstanding commitment AGM has to its employees, as well as the many contributions AGM makes to the Tucson community, is representative of what a business should be."
Since 1970, AGM has led in the design and manufacture of environmental control hardware for the U.S. military, aerospace, and logistics industries, producing tie-down straps, desiccant, desiccators, breather valves, and much more.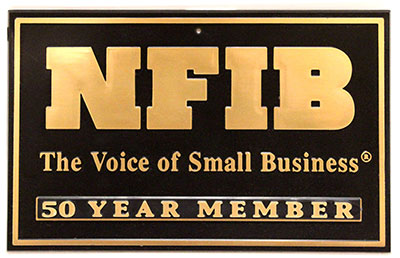 As a 50-year member, AGM began their membership with the NFIB as AGM Cargo Ties before changing names to AGM Container Controls in order to more accurately represent a diverse and expanding product line. Due to this expansion and the growing need for representation, AGM joined the NFIB in 1966.
The NFIB advocates for small business rights in both local and federal arenas, while also providing legal counsel to small businesses and discounts on services, such as industrial supplies, phone lines, and health insurance.
Recently, the NFIB was successful in advocating a permanent tax credit for small businesses. "We won legislation which established the small business expensing of capital investments at $500K permanently," says Pritts.
For information about the NFIB and their small business advocacy efforts, visit the NFIB website.