A company policy for business success in difficult times.
As an industry leader in the design and manufacture of environmental control hardware since 1970, AGM Container Controls, Inc. (AGM) has cultivated a reputation for design excellence and reliability across a multitude of diverse and demanding markets. However, AGM's history is not without hardships.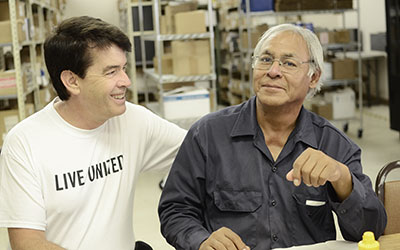 In fact, in the early 1990s, the dramatic cuts to the U.S. defense spending created a severe economic hardship for AGM as, at the time, the company was almost solely reliant on defense business. Thus, in 1992, AGM was forced to lay off 40% of its workforce. Nevertheless, AGM was able to recover by broadening its market base for existing products, as well as by diversifying company assets to include a new company division and market. Furthermore, in an effort to prevent future layoffs, AGM implemented companywide policies to directly respond to such difficult financial situations. These actions proved effective, as AGM recently celebrated its 25th consecutive year without a layoff.
13-Steps to Avoid Layoffs
Despite AGM's success during the last 25 years, changes in U.S. political policy, discretionary government spending, as well as large recessions continue to threaten AGM's stability. Accordingly, AGM developed the following 13-step policy in order to avoid layoffs in difficult economic times:
Only hire employees when Management can see a long-term demand for the employees' services. Otherwise, use voluntary or compulsory overtime to avoid hiring new employees that would possibly need to be laid off in the event of a downturn.
Cross-trained employees provide a company greater versatility to move personnel between product lines or departments for as long as necessary if other product lines or departments slow.
Continually communicate with employees of the projected downturn so employees can better prepare themselves, both psychologically and financially.
Implement a hiring freeze on all non-essential positions whenever Management forecasts a significant downturn.
For essential positions, consider hiring from within.
Keep a backlog of thousands of hours of low-priority, long-term projects to help keep employees busy during downturns.
Increase inventories of standard product components during downturns so that hourly production employees can stay busy making sub-assemblies, even when there are no orders, which would justify this build-up. Such inventory build-ups aren't very costly and are quickly depleted once normal business resumes.
Perform comprehensive inventory counts. As companies that stock a large number of components, such as AGM, materials departments are usually challenged to verify their company's inventory counts on an annual basis. Thus, during a downturn, hourly production employees may help an inventory management team perform full inventory counts.
Utilize current employees to take over contracted services, such as janitorial and grounds-keeping duties.
Utilize production employees to do non-routine tasks, such as painting, roof-coating, paving, and deep cleaning.
Consider implementing a wage and salary freeze until normal business resumes.
Encourage employees to take vacation days during downturns and, if needed, even pay employees bonuses to use their vacation days.
Have employees take Voluntary or Involuntary Unpaid Leaves of Absence to help the company temporarily reduce fixed labor costs. Especially consider highly-compensated non-essential salary employees for these unpaid absences as they likely have more savings, thus, more able to deal with a loss of income.
*The above list of 13 steps was first published on page 14 in the spring 2012 issue of the Tucson Metro Chamber of Commerce's quarterly publication The Chamber Edge, which can be found here.