FOR IMMEDIATE RELEASE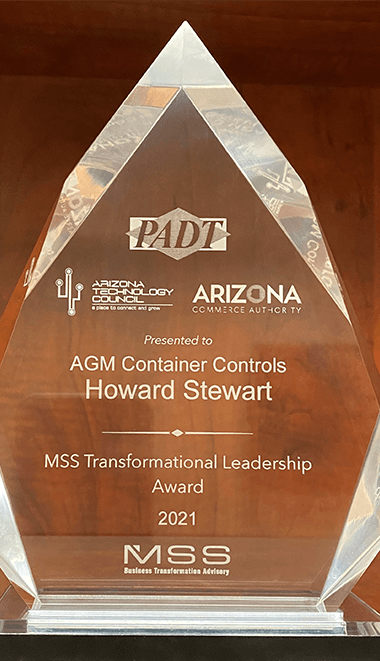 Tucson, Ariz. - Oct. 21, 2021 - AGM Container Controls Inc. (AGM) and it's President/CEO Howard N. Stewart were recognized with the Transformational Leadership Award for the company's model tuition reimbursement program, at the 18th annual Governor's Celebration of Innovation Awards on October 13, 2021.
The Transformational Leadership Award is presented to an executive or organization that has achieved significant business success driving positive, transformational change in their organization with measurable outcomes. The event is made possible by a partnership between the Arizona Technology Council, the Arizona Commerce Authority, and Avnet.
"The key point that makes it [AGM's tuition reimbursement program] innovative is that the school can bill AGM directly instead of the student paying up front," said Leigh Goldstein, COO and vice president of programs and events for the Arizona Technology Council. "Also, education does not have to be tied directly to what the person is doing at AGM - it can be for anything."
Although AGM employees may utilize the company's tuition reimbursement program at any college or university, AGM has specifically partnered with Tucson's local Pima Community College. The partnership enables AGM to pay PCC directly for employee tuition and books, rather than the company reimbursing employees later. As a result, the partnership tears down a roadblock to education: The initial cost to students.
AGM's tuition reimbursement program provides each employee up to $5,250.00 per year for class tuition and books. AGM employees may take any classes they wish, regardless of whether or not the instruction is directly related to the employee's position at AGM.
Furthermore, at the time of every employee's wage and performance review, AGM provides supplemental wage increases for courses that employees complete within the given review period.
"I'm so pleased and honored to be recognized with this Transformative Leader award," said Howard. "It culminates what I've been working towards for the past three decades in terms of workforce education and the importance of it. Thank you for this terrific honor."
The tuition reimbursement program has provided more than the opportunity of education to AGM's employees, however; Howard says the initiative has delivered tangible results to the company. According to Howard, AGM has seen a 160-percent increase in employee productivity as measured in dollars shipped per employee, since 2006.
"When employees go back to school, such college coursework inevitably enables them to be able to greatly increase their competency and skillset as employees in a plethora of ways," says Howard. "They end up vastly improving their communications skills – language, reading, writing – as well as math skills, science, technical, logic, and critical thinking skills. All of these skills result in improved circumstances for themselves and their families, as well as efficiency and productivity gains for AGM."
AGM leadership was in attendance at the Governor's Celebration event to accept the award, including Howard and his father Roger Stewart, the prior head of AGM and originator of the company's tuition reimbursement program. The event took place at the Phoenix Convention Center and attracted more than 850 business leaders from across Arizona.
Other finalists for the Transformational Leadership Award included Arizona State University and the Cancer Treatment Centers of America.
About AGM Container Controls Inc.
Founded in 1970, AGM Container Controls Inc. is a supplier of pressure, moisture, and logistics hardware to the aerospace & defense industry as well as many others. AGM prides itself on providing top quality design engineering and manufacturing services to all of its many customers. Located in Tucson, Arizona, AGM is a proud American owned and ESOP company. AGM aspires to be a model, principled company, while providing for the needs of our employee-owners and their families, as well as enabling AGM employees to fulfill their personal goals through rewarding job opportunities and continuing education.
About Howard N. Stewart
In the year 2000, Howard Stewart was named President/CEO of AGM Container Controls (AGM). AGM was founded by his parents, Roger and Joyce Stewart, in 1970. Interestingly, Howard began working at AGM as a teenager on a part-time basis from 1971 to 1982.
In 2002, Howard was recognized by the Tucson Metro Chamber as Tucson's Small Business Leader of the Year. In 2009, under Howard's leadership, AGM was recognized by the U.S. Chamber of Commerce as "America's Best Small Business of the Year", beating out over 4,500 other applicants. To date, AGM is the only Arizona business to have ever received this distinction. In 2018, Howard was named Southern Arizona's CEO of the Year.
About the Arizona Technology Council
The Council was established in 2002 after the Arizona High Tech Industry Cluster merged with the Arizona Software & Industry Association. They have since grown to over 800 members and counting. In 2016, the Arizona Optics Industry Association merged with the Council and now serves as our Optics Valley Committee.
About the Arizona Commerce Authority
The Arizona Commerce Authority (ACA) is the state's leading economic development organization with a streamlined mission to grow and strengthen Arizona's economy. The ACA uses a three-pronged approach to advance the overall economy: recruit, grow, create – recruit out-of-state companies to expand their operations in Arizona; work with existing companies to grow their business in Arizona and beyond; and partner with entrepreneurs and companies large and small to create new jobs and businesses in targeted industries.
About Avnet
As a leading global technology distributor and solutions provider, Avnet has served customers' evolving needs for an entire century. We act as an extension of our customers' teams, so they can leverage our deep technical and supply chain expertise to maximize their return on investment throughout the product lifecycle. Customers come to Avnet to accelerate their product design or streamline their supply chain, and they can plug in our capabilities to optimize their own.
Contact
Paul Davis
Marketing Manager
AGM Container Control Inc.
520.881.2130 EXT 2171