Description
Similar to AGM's TA796 valve, the TA761 is a high-flow magnet valve that achieves higher flow rates than are available in a comparably sized spring-actuated valve. The TA761 has full flow instantly, making it the ideal solution for rapid decompression applications. This high flow also means that fewer valves are required per container when compared to comparably sized spring-actuated valves.
AGM's TA761 magnet breather valves have a predictable, repeatable opening pressures, and a high flow can be achieved regardless of the opening pressure, as compared to spring-actuated valves.
Download Magnet Valve White Paper
The chart below shows the typical flow performance for the TA761 valve. The dashed lines show varying cracking (opening) points. The dotted line shows the performance of a spring-actuated valve of the same size, for comparison purposes.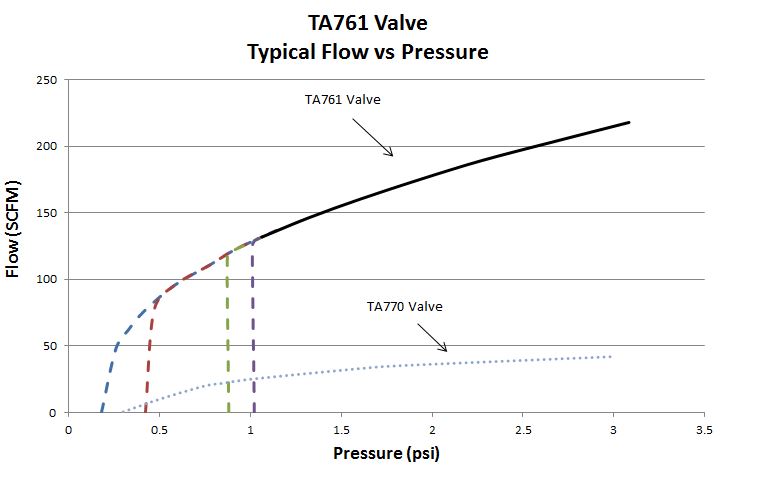 As shown in the chart above, various cracking pressures are available for the TA761 valve. The reseal pressure of the valve, however, is not selectable due to the valve's high volume of air flow. In many cases, the valve will completely equalize the pressure inside an enclosure with its surrounding atmosphere before the valve closes.
| | |
| --- | --- |
| Materials | Housing, Cover, Washer & Nut - Aluminum Alloy • Cover Screws - Stainless Steel |
| Materials (Cont.) | Float & Magnet Support - Glass Filled Polycarbonate • Magnets - Nickel Plated Neodymium Iron Boron |
| Materials (Cont.) | Return Spring - Phosphor Bronze • Gasket and Internal Seal - Silicone |
| Finish | Anodize |
| Mounting Hole Diameter | 2.050 ± .04 (50.8 ± 1 mm) |
| Maximum Wall Thickness | 0.75 (19 mm) |
| Weight | 0.331 lbs. (150 grams) |
| Cracking Ranges Available (psid) | 0.1 - 1.0 |
Housing has hook spanner notches.