Description
Quick-Adjust Tie Down Shelving is the same as Standard Tie Down Shelving, except for the method of mounting to the bulkhead.  It mounts to the bulkhead by means of the Quick-Adjust Shelving Bracket and previously installed ISO track (also called slot and hole tracks).  Quick-Adjust Tie Down Shelving does not require tools to readjust shelving height.
Quick-Adjust Tie Down Shelving To Reconfigure Ship Stowage Areas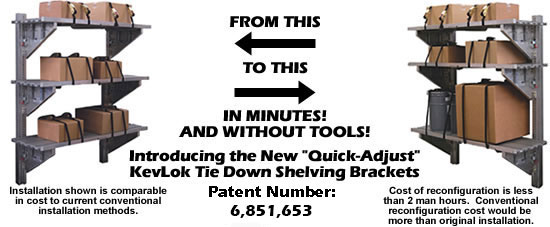 Shelving available in lengths of 24" to 144" and in widths of 12" or 18". Brackets available in either 12" x 12" or 12" x 18" configurations and can be adjusted vertically in 1" increments so that shelving can be placed as close as 12" to each other or above the deck.
Tie downs available as quick-disconnect loop straps with ratchet fasteners or as quick-disconnect KevLok fastener straps with quarter-turn end-fittings. Three different cross sections of track are available in lengths up to 72".
Installation as shown above (with box beam track) has passed Mil-S-901D Medium Duty "Hammer Test."
Use this link to see our Quick-Adjust Tie Down Shelving Drawings.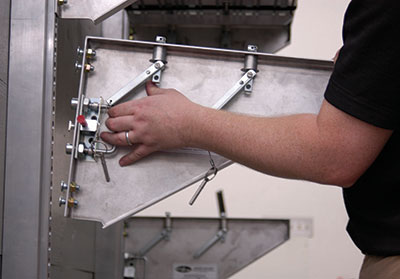 These rugged brackets easily secure the KevLok Tie Down Shelving and attach to vertical ISO Track with easy hand-operable locking mechanisms.