Description
1. Custom Shapes
Protect electronics, optics, electro-optics and various sealed enclosures from the deleterious effects of moisture. These custom desiccators are produced to precise envelopes that match the available space in the equipment to be protected, thereby maximizing the size of the desiccant charge.
Desiccant housing may be injection molded plastic, machined aluminum, vacuum formed plastic, metal stamped aluminum and porous plastics. Filter materials are produced from sintered bronze, porous plastics and blotter paper.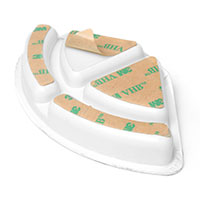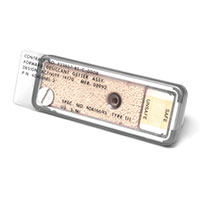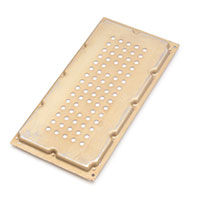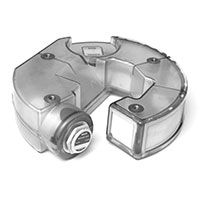 2. Desiccators with Controlled Breather Valves (Breathing Desiccators)
Protect sealed enclosures from over pressurization or vacuum due to air and land transport and diurnal temperature cycling. Breather valves are panel mounted to the enclosure and are provided with attached replaceable desiccant cartridge to remove moisture from the air passing through the valve into the enclosure. Breathing desiccators may be used with AGM's mounting flanges for ease of installation and cartridge replacement.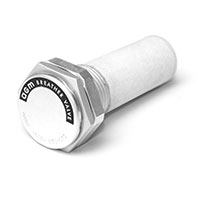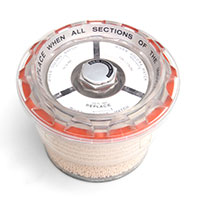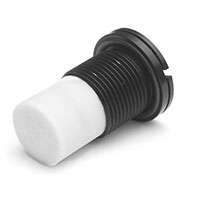 3. Desiccators with Humidity Indication
Desiccators provide visual indication of the desiccant condition, signaling when it is time to replace the desiccant. Indication is provided via color change indicator cards, or color change desiccant. Humidity indication is available in a number of products, including breathing desiccators, indicating desiccators and inline desiccators.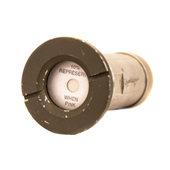 4. Desiccant Cartridges, Plugs and Holders
Desiccant cartridges may be filled with a variety of desiccant media and used as a standalone static desiccators or in conjunction with breather valves, humidity indicators or threaded housings.
Desiccator plugs come in a variety of thread sizes and are used to protect small enclosures from moisture ingress.
Desiccant holders panel mount to an enclosure and are equipped with an easy to use quarter-turn cover assembly for ease of loading and replacing desiccant bags without the need to open the enclosure.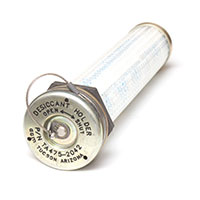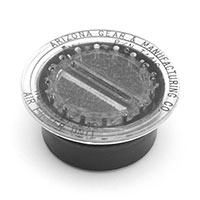 5. Flexible Cloth
Breathable cloth fabric may be sewn in a variety of shapes and sizes and filled with silica gel or molecular sieve desiccant.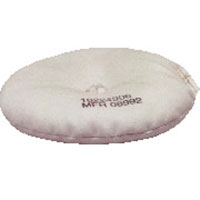 6. External Desiccator
All stainless steel construction with a removable end-cap for replacement of pre-packaged desiccant. End-cap can be fitted with breather valve or humidity indicator plug. Standard NPT fitting required for connection to enclosure. Length and diameter can be specified as required. Note: this desiccator is designed to be used external to the enclosure.