AGM provides custom engineering services for all of our products in order to best fit the unique needs of our customers. A common customer request is for custom engineered pressure relief valves.
What are custom valve assemblies?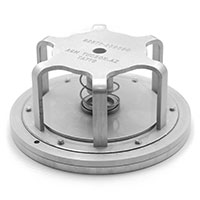 AGM customers often require valves with non-standard performance requirements, such as unique cracking pressures or resealing pressures. In addition, some customers require non-standard alterations to the valve body, such as a thicker flange.
AGM's engineering department communicates with the customer in order to determine valve requirements based on their container size, pressure ratings, and other data. In the event that a new valve design is required, AGM will build it.
The process
Custom assembly jobs begin with customer contact. After a customer notifies AGM about their needs, the engineering department follows up with the customer to gather the relevant data. Afterward, AGM engineering can adjust a current valve model to meet the necessary performance specifications or prototype an entirely new design.
Regardless of whether the assembly is an adjustment or a new type of valve, each product undergoes a design review in addition to individual testing in order to ensure that it performs to the customer's as well as to the industry's standards.
Industries using custom valves
AGM designs and manufactures a range of custom valve assemblies for the U.S. defense sector, as well as the aviation and logistics industries. In addition, university research programs and many other private and commercial organizations use AGM's custom engineering services.
Does AGM offer custom engineering services for any other products?
Yes, all of them. As a High-Mix/Low-Volume manufacturer, AGM prides itself on the ability to produce products that are applicable to a wide range of users, including supporting their non-standard needs. This means that AGM routinely custom engineers many of its products – everything from tie-down assemblies to humidity indicator plugs – in an effort to provide solutions to all of its customers.
How do I contact AGM about custom engineered assemblies?
Those interested in AGM's custom engineering services can contact a company representative at (520) 881-2130 or by email. AGM engineers and product specialists are happy to help you find the right solution to your problem.