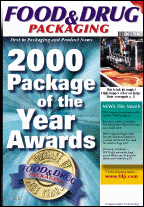 Desiccant helps freight company eliminate product loss due to moisture problems.
In a nutshell:
Goal: Keep onions dry and mold-free during shipping across weather extremes
How: Use desiccant bags in truck trailers to control moisture
Result: No product loss due to moisture problems
Getting produce across the country is no easy task. Temperature and humidity variations can take their toll on cargo during cross-country shipping, particularly in winter when weather is extreme.
Logistics freight company Compass Consolidators faces potential profit shortfalls unless it controls spoilage from moisture damage when transporting yellow onions from Washington state to the East Coast.
"We need to ensure that our produce remains dry during shipping on the long haul to the East Coast," says Jim Valentine, regional manager of Compass Consolidators.
Compass turned to AGM Container Controls, specialists in packaging and transportation applications. AGM recommended Container Dri® II bags from Süd-Chemie Performance Packaging to control ambient moisture in rail containers and prevent condensation on cargo.
The product comes in the form of 125 gram or 50 gram bags with adhesive for secure placement on pallets, container walls and tops of cargo after loading and just prior to shipping.
Compass ships onions in 45 foot long trailers along the Burlington Northern Santa Fe rail line through the northern Midwest states to the East Coast. The containers are vented to circulate air around the onions as they travel. This works well for the five to seven day trip in the spring, summer and fall.
In the winter, however, it's a different story.
The onions are stored in facilities that are kept at a temperature of 45° to 50°F, then put in trailers, which then are loaded onto railcars.
To keep produce from freezing, a combination of insulation blankets and foam insulation is used, starting in the late fall.
While the insulation keeps the produce from freezing, it limits air circulation and raises the humidity level, leading to conditions that promote mold and spoilage.
The packers place 64 bags of Container Dri II with each 48 foot long, 102 inch wide container of onions to keep them dry and mold-free. Each bag is designed to absorb up to three times its weight in moisture.
Onions usually are shipped in 50 count plastic mesh bags that are loaded directly into container trailers. Much of the cargo is sent to distributors who repackage the onions in 3 and 5 pound bags. Other receivers include large vegetable distribution centers.
Container Dri II bags remain active for up to 60 days. Convenient, mess-free and non-toxic, the bags can be disposed of after use like any waste stream product.
December 2000 reprinted from Food & Drug Packaging Staff