The container was for a Cryogenic Limb Array Etalon Spectrometer (CLAES), a $60 million program developed by Lockheed for NASA. CLAES is one of 10 scientific instruments on NASA's Upper Atmosphere Research Satellite (UARS), a 15 month experiment to observe and understand the chemistry, energy and dynamics of upper atmosphere.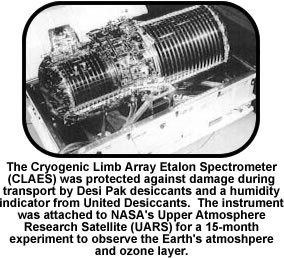 The CLAES mission is to observe 15 stratospheric chemical species, including ozone and ozone-destructive compounds, and provide complete coverage of the Earth's ozone layer. This includes observations of the controversial Antarctic ozone hole.
"Damage is a major concern in this business, especially when dealing with such costly and sensitive equipment as CLAES," notes Miller. "With the size and type of material and equipment that we package and ship, one damage claim could cost us and our customers millions of dollars."
"It was imperative that CLAES arrive in New Jersey in order," says Larry Burriesci, senior staff engineer at Lockheed. "The slightest amount of moisture could have had serious consequences and could have delayed the scheduled launch of the space shuttle." "We were very familiar with West Coast's work, "recalls Burriesci. "We gave the specifications the container had to meet and told their engineers to determine how to best protect CLAES."
Those specifications included a free-breathing, desiccated environment, allowing moisture-free air to pass through the container. The atmosphere inside the container had to be regulated, based on storage indoors in a non-humidity-controlled room (25% to 100% relative humidity). Lockheed also required the container to have a refillable, desiccant enclosure with desiccants that conformed to MIL-D-3464 Type II specification, as well as a humidity indicator.
West Coast Packing and Crating has more than 20 years of experience as a manufacturer of custom-made containers for the aerospace, military and electronics industries. Ron Miller first began servicing Lockheed when he got into the packing business in 1958, and Lockheed became one of West Coast's first customer when the company opened its doors in 1971.
Miller has used desiccant in his packaging operations since 1958, and West Coast began using United Desiccants products in 1987, the same year the company developed and introduced Tyvek bags for industrial-size desiccants. West Coast looked into the Tyvek bags after experiencing breakage in the paper, desiccant bags from its previous supplier.
"The desiccant we were using would occasionally burst, contaminating the cargo," Miller explains. "We first switched to United Desiccants because of the Tyvek bags, but then we found that their products are more affordable and are of a higher quality than those of our previous supplier. They also have greater availability; United Desiccants is one of the few companies that has a good distribution network in place and can, therefore, get product to you in a timely fashion. In addition, United Desiccants products meet the U.S. Department of Defense military specifications."
West Coast currently uses five desiccant products from United Desiccants: the 2-unit, 4-unit, 8-unit and 16-unit Desi Pak in Tyvek bags, and the 80-unit Desi Pak in a standard cloth bag. West Coast also uses as many as eight different humidity-indicator cards and plugs from United's Humidial Corporation division in Colton, CA.
The container West Coast constructed for Lockheed was a 7'-wide, 11'-long and 7'-high aluminum structure. The refillable desiccant enclosure was attached to the inside of the front in the upper left-hand comer of the container.
The desiccant was enclosed in a "caged compartment", which allowed air to flow through the free-breathing container. An air-pressure relief valve from Humidial was attached near the desiccant compartment, so that all air flowing into the container went through the desiccant chamber. The 16-unit Desi Paks adsorbed moisture out of the air as it entered the container, thus maintaining the required humidity levels and protecting CLAES from moisture damage.
A humidity indicator plug, also from Humidial monitored the container's humidity level and metered the adsorption level of the Desi Paks. The container was constructed to allow the air-breather plug and humidity-indicator plug to be read from the outside. A port hole was constructed on the container for external loading of the desiccant. Twenty-four 16-unit Desi Paks were required.
The completed container was transported to a clean room at Lockheed where CLAES was packed. The Desi Pak bags were loaded after the container was sealed. The container was then trucked from California to New Jersey in January. The move from a warm weather to a cold weather location was another reason a high-quality desiccant was required.
"That type of climate change can greatly alter humidity levels, causing excess moisture to build," explains Burriesci. "The slightest amount of moisture could have condensed in and clogged the valves on CLAES."
The Desi Paks, which adsorbed all moisture before it could reach CLAES, prevented such damage. CLAES arrived in New Jersey in perfect condition and was assembled onto the UARS.
The fully assembled UARS was shipped by ocean barge to the Kennedy Space Center in Cape Canaveral, FL. From there it was launched into space on September 12, 1991, on mission STS-48 of the Space Shuttle Discovery.
West Coast's container continued to be used. Desi Paks were loaded into the desiccant compartment and the container was used to transport and store ground-support equipment for servicing CLAES. It accompanied the UARS on its voyage to Florida.
"This was a very critical piece of equipment," said Miller. "That's why we used United Desiccants' products and why we use them in all of our packing applications. Since switching to United Desiccants, we have had zero bag breakage and no failure or damage complaints."
Adds Burriesci, "CLAES arrived in excellent condition, with no problems whatsoever." The satellite is still in space and is still performing in excellent fashion.
October 1992, reprinted from AEROSPACE PRODUCTS