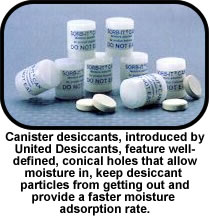 In the case of United Desiccants, the road to becoming a certified supplier for Merck was paved with quality and service.
Pharmaceutical manufacturers are constantly exploring how drug packaging materials can extend shelf-life and can ensure a medicine's potency. Product quality is so important to pharmaceutical companies that they name specific vendors and vendor materials in each drug's New Drug Application (NDA), for everything from the drug's raw materials to packaging products.
Merck Manufacturing Division of Merck & Co., Inc., Wilson, NC, needed a way to protect products from moisture. By partnering with United Desiccants, Belen, NM, in packaging technology, Merck is maintaining product integrity by using canister desiccants in its tablet bottles.
"It's important that we protect all of our medicine, which is why we use desiccants for certain products," says Tony W. Ashburn, purchasing manager for Merck. "In specific applications, desiccants are vital for ensuring these products are just as potent when they reach our customers as they were when they left our facility."
BEST PROTECTIVE METHODS
As Merck researches and develops new drugs, it simultaneously works on identifying the best methods of protective packaging. All of Merck's R&D facilities are all-inclusive, from testing pharmaceutical raw materials to packaging materials. Nearly all pharmaceutical products require protective packaging from any moisture/humidity that may leak in through the seal after bottling or closure during use. Any moisture vapor in the bottle can cause the medicine to degrade. "To ensure quality, we take the necessary steps to prevent this degradation from occurring," says Fred Dean, Merck's industrial pharmacist. "United's canister protects product from moisture."
"With the recent development of new tablets, our packaging technological services also tested United Desiccants'canisters in the original stability studies," continues Dean. "We found the canisters extremely effective in protecting the product from moisture."
HOW DESICCANTS WORK
Desiccants are drying agents that protect products susceptible to moisture damage by adsorbing moisture contained in packaged products. They quickly reduce bottle humidity to a redetermined lower value and keep it there for an extended period of time.
In addition, desiccants enable pharmaceutical manufacturers and packagers to maintain product freshness and extend shelf life by controlling moisture. Placed with products in a properly sealed package, they effectively protect the contents during storage, after opening and during use.
Canister desiccants have a hard case, uniform shape and an appearance distinct from the product in the bottle, to minimize the chance of accidental swallowing. In addition, canisters feature well-defined conical holes that allow moisture in and keep desiccant particles from getting out and provide a faster moisture adsorption rate. The canister ensures product quality throughout distribution and storage.
PARTNERING PAYS OFF
"The canister is a major component for maintaining product effectiveness," says Dean. The canister, and United Desiccants, are included in many of Merck's medication NDAs. Merck has established strong relations with many of its suppliers based on communication, product consistency and services. NDAs are extremely difficult to change once filed, so customer and supplier must have ongoing communication and& constant quality improvement. United Desiccants has been able to build a relationship of trust and confidence with Merck.
CERTIFICATION TAKES TIME
With so much at stake, Merck chooses its certified suppliers carefully. To be considered, the supplier must: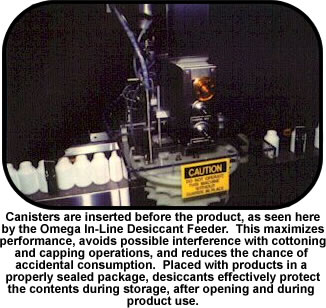 have a working relationship with Merck for at least 12 months;
meet the company's established rates of on-time delivery;
have a service history with the company;
have supplied at least 10 lots of material;
and meet an established rate of incoming quality
"We want a give-and-take with our suppliers, and the people behind the doors at United Desiccants make the difference," says Ashburn. The free flow of information and feedback between the two companies has won United Desiccants the Merck Supplier Certification Award.
Merck's Supplier Certification Program begins with an internal Supplier Quality Team (SQT) recommending a supplier for the honor. "A relationship must be secured first before a supplier is even considered," says Ashburn. "Our certification is the 'icing on the cake' of a good relationship.
Suppliers are reviewed on a regular basis even after certification. "To retain our business, these suppliers must endeavor to maintain the certification," continues
Ashburn.
One benefit that United Desiccants had was its ISO-9002 registration. As part of its ongoing quality program, the company has in recent years consolidated its manufacturing facilities to incorporate advanced automation and quality detection for improved customer service, increased productivity and reliability.
The company has also upgraded all assembly lines and installed new molding and detection equipment to help ensure that only high-quality desiccants will reach the customer. United Desiccants' advanced pharmaceutical production systems have led to increased volume and an even higher level of quality.
"Although this is not a criterion, Merck sees ISO as a benefit for consistent quality," says Ashburn. "It's an example that our supplier has contemporary ideas and knows what the next step is in business; they know what's going on in the world."
"United Desiccants' innovative thinking in packaging is what began the Merck 'partnership,' and is what will help develop it further," he concludes.
reprinted from Pharmaceutical & Medical Packaging News