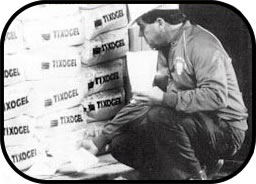 LOUISVILLE, KY - The harmful effects of cargo damage, caused by condensation developed during transport, can often translate into lost revenue and jeopardize credibility for manufacturers, distributors and retailers of almost any product. In growing numbers, however, transporters are learning that one of the most effective weapons to protect shipments is with moisture absorbing desiccant bags.
United Desiccants-Gates, Louisville, Kentucky, has developed the first product specifically designed to combat condensation during transport. Known as Container Dri, it is being offered in 10- x 5 3/4- x 1 -inch one-pound bags to accommodate cargo shipping. The company considers the product a cost-and-labor-efficient solution for trucking, shipping and railroad transporters.
How They Work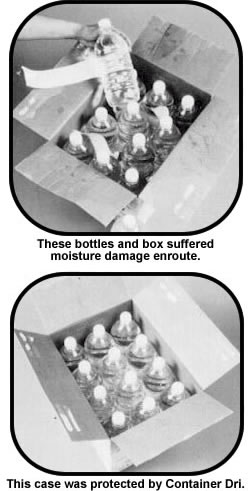 The growing popularity of desiccant bags within the transportation industry stems from their ease of use and effectiveness, according to the manufacturer. The lightweight bags are simply placed in between packages of cargo as they are being loaded into a container prior to shipment, and removed upon arrival. During transport the bags absorb condensation from the container before it can saturate the packaging.
Required desiccant amounts vary according to: the quantity and composition of the transported item; anticipated length of the trip; temperature and climate changes experienced during transport; and other factors.
Used in conjunction with traditional desiccants previously packed along side the product, Container Dri prevents condensation from reaching the cargo, providing an effective solution to a problem that has long plagued the industry, the manufacturer says.
Prior to the introduction of the product, United Desiccants-Gates officials say very little time and technology had been committed to this industry-wide problem. None of the past applications offered the ease of handling and absorption capacity.
One such alternative, a "tapestry" container lining, offered comparable absorption but involved considerable labor to install. Another, moisture absorbing paper lining, was glued to the ceiling of the container.
Benefits to this method were often diminished due to its unreliable and inconsistent adhesion during transit. In the past, water damage during transport was accepted in the industry as a part of doing business.
Why Certain Packaging Requires Special Consideration
With more than four decades of expertise in all areas of condensation and moisture adsorption, United Desiccants-Gates recognized the immediate need for desiccants in the product transportation industry. The introduction of Container Dri fit the company's strategy of becoming a supplier of a complete line of packaged desiccants, absorbents and humidity indicator cards and plugs.
To realize the benefits of moisture absorption devices such as Container Dri, it's important to understand the need for such protection, the company says. Cargo sent by truck, railroad or ship must be protectively packaged to minimize movement, breakage, or exposure to sunlight. At the same time these products must be able to endure considerable climatic changes
which can create condensation in the container.
Transporting product during a trip of several days or more through different regions exposes items to varying climates.
This enhances the opportunity for condensation to develop within an enclosed container. When condensation becomes trapped in an enclosed vehicle it can ultimately be absorbed by, and damage, those neighboring dry products such as metal, wood, powders, and other items.
Condensation Degrades Products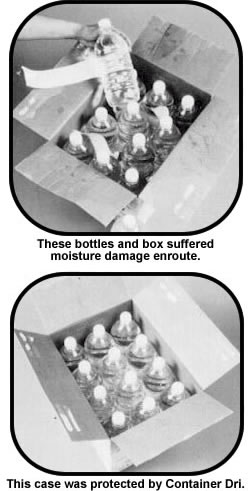 The extent of moisture-induced damage can usually be attributed to the hygroscopic, or moisture absorbing properties, of a given product. Products organic in nature are particularly vulnerable to moisture absorption.
When these items are placed in an atmosphere which is subject to extreme environmental changes, absorption becomes largely inevitable.
Non-hygroscopic materials, such as metal parts, tin cans and electronic components can also be negatively impacted by condensation. While these items do not retain moisture, exposure to condensation can ultimately lead to rust or corrosion.
Moisture damage can usually be detected by visual inspection, such as with warped wood, damp coffee beans or grinds and rusty metal parts. At this stage, however, the damage has already been done, at a substantial cost to all parties involved - manufacturers, distributors and retailers alike. This is especially true in today's market, where many retailers - as part of space management and cutting warehousing costs - are taking delivery according to when current supply is depleted. In this case, damaged products could result in empty shelves.
Product Protection Is a Necessity
With production, warehouse and distribution costs on the rise, the use of desiccants to package and ship, products is currently one of the most cost efficient ways to guard your shipment from moisture damage, according to United Desiccants-Gates. If a product shipped from point "A" to point "B" doesn't arrive in its original condition, the time and money wasted can be incalculable. Without this readily available protection, you may be risking product integrity, customer relations and more importantly, your company's reputation goods, shipment without moisture protection also can cause cans to rust and labels to peel.
June 1991 reprinted from the premiere issue of Packer/Shipper