Knight-McDowell Labs' quest for an alternative to foil packaging for its effervescent tablets led to a rigid, polypropylene injection-molded container.
As a second grade teacher, Victoria Knight-McDowell, founder of Knight-McDowell Labs, Carmel, CA, was constantly catching colds. So she set out to find a natural way to protect herself and others from airborne germs and viruses.
The product she developed, Airborne®Formula, combines herbal extracts with amino acids, antioxidants and electrolytes that are said to deliver significant protection from minor health problems.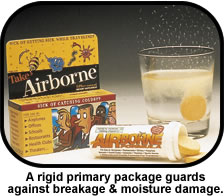 Combining the formula into solid form presented a problem for Knight-McDowell. "Conventional pills take hours to assimilate into the bloodstream," says Knight-McDowell. She turned to a delivery system that's growing increasingly popular in the world of nutrition supplements: effervescent tablets.
Having finally settled on the delivery system, Knight-McDowell sought packaging that added value to her product. "Airborne's package was a high priority. We wanted packaging that reflected the quality of our brand, yet was functional," she says.
Her search led to Süd-Chemie Performance Packaging (Belen, NM), which she presented with a list of packaging requirements. Critical was that the packaging be able to accommodate full-color product descriptions on the exterior. It also had to offer durable protection against tablet breakage and guard against moisture.
After exploring various options, Knight-McDowell began specifying Süd-Chemie's effervescent-Pak ™, an injection-molded polypropylene container and a polyethylene closure with a silica gel adsorbent to trap moisture.
Effervescent tablets are often packed inside heat-sealed foil pouches that are inserted into cartons.
Because the company was targeting travelers as an important market, it saw significant drawbacks in foil packaging. First, it doesn't provide protection against tablet breakage the way a rigid container does. Second, because each tablet is wrapped individually, the small size often prohibits bright, attractive graphics from being printed on the packaging.
The rigid effervescent-Pak, on the other hand, protects against tablet breakage and has a surface that accepts full-color graphics.
Its cap design also sets it apart. The snap-on PE cap features tamper-evidency as part of its design. The effervescent-Pak is designed with a small well around its edges, so that when the cap is pushed on during the capping process, it locks behind the edges, thus forming a breakaway band that prevents tampering.
Molded into the underside of the injection molded PE cap is a flexible spiral spring. Not only does it house the moisture-adsorbing desiccant, but it also holds the tablets securely in place, thus preventing breakage.
Packaging the tablets
A contract packager packages the tablets into tubes that are 85 mm x 27 mm in diameter (3"x1"). The tubes are supplied by Süd-Chemie, which also prints the five color graphics on the tubes.
After the tubes are filled and capped, they are placed in fifth-panel folding cartons. The 18-pt SBS cartons are offset printed in four colors. The cartons are grouped into bundles of six, shrink wrapped and then placed into cases.
Pressure-sensitive rollstock Electronic Article Surveillance tags from Checkpoint Systems, Inc. (Thorofare, NJ), are affixed to the inside of cartons by the unidentified carton supplier. According to Knight-McDowell Labs, certain retail stores require EAS tags; however, only 20% of Airborne's cartons actually get a tag. They work in tandem with the security systems the stores have in place. Should the EAS label not be demagnetized during checkout, an alarm will go off as the customer walks through a sensing archway.
Positive results for Airborne
After more than a year and a half on the market, Airborne has begun to deliver on its potential. Knight-McDowell notes that Airborne has become a favorite of the Hollywood community and is also endorsed by the head trainers of several National Football League teams. The product has grown from distribution in one small California chain to more than 7,500 stores nationwide, including Walgreens, Osco, Sav-on-Drugs, Longs, Trader Joe's and other chains. Airborne retails for $6.99.
January 2001, reprinted from Packaging World®