FOR IMMEDIATE RELEASE
Contact:
Paul Davis
Marketing Manager
AGM Container Control Inc.
520.881.2130 EXT 2171
Tucson, Ariz.—Aug. 15, 2022— Longtime Tucson community advocate and philanthropist, Howard N. Stewart, who is the President/CEO of AGM Container Controls, was recently honored by the Tucson Hispanic Chamber of Commerce (THCC) with this organization's prestigious "Legacy Award". As such, this past Monday, a large group of Howard's friends, supporters, and other community leaders burst into his corporate office without warning in order to congratulate him for having been recognized with this award.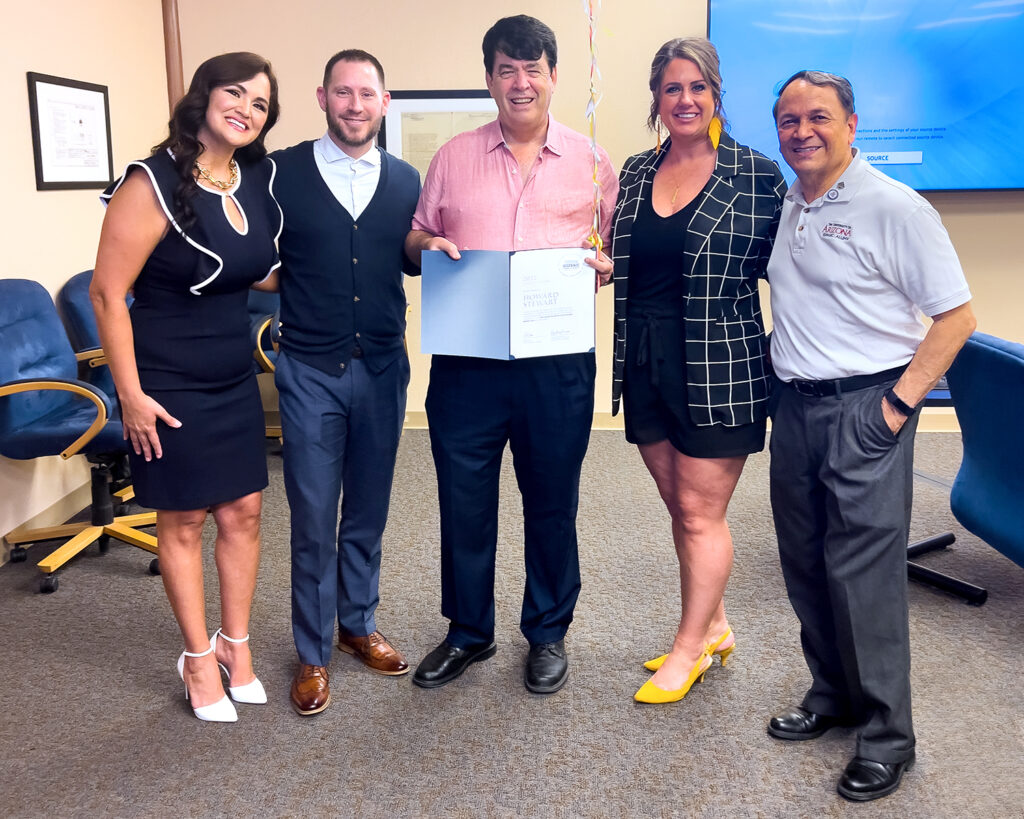 This tribute was bestowed upon Howard by Karla Bernal Morales and Rob Elias, the former of whom serves as the current Chair of the Board of Directors for THCC, and the latter of whom is the current President/CEO of this same organization. In this regard, Karla informed those present that Howard had been selected from a prestigious list of candidates, but was ultimately voted upon unanimously to be the recipient of this year's Legacy Award.
THCC's Legacy Award annually honors a local, iconic individual that has consistently served as: 1) a passionate advocate for the Hispanic community; 2) has sought to increase awareness and understanding among the broader community of the importance and value of our Tucson region's bicultural and bilingual heritage; and 3) is a recognized community leader with a long-standing record of community service, volunteerism and generosity, especially on behalf of the Southern Arizona Hispanic Community.
In this regard, throughout Howard's lengthy career, he has frequently stepped forward to support various Southern Arizona community non-profits by donating his time, talent and personal treasure, such as by chairing and fundraising for various campaigns, events and boards, heading up advisory councils, performing important committee work for a plethora of civic and private institutions, as well as serving as a mentor for various Hispanic community leaders. Some of the key non-profits that Howard has helped to support in Tucson are as follows: San Miguel High School, the United Way of Tucson and Southern Arizona, the American Heart Association, the Pima Community College Foundation, the Diaper Bank of Southern Arizona, Higher Ground, Big Brothers Big Sisters, as well as many others.
"Whether one is a mentee or a mentor, Howard is an example to be followed," said Karla Morales, who also remarked, "when Howard looks at situations in which community members are struggling with various socio-economic challenges, he attempts to help determine whatever solution might be the most viable for resolving the given circumstance, without giving much thought of any personal cost to himself."
Likewise, according to Rob Elias, "a specific note of distinction is Howard's authentic generosity, which, perhaps, might best be exemplified by the Arizona statewide-renowned College Tuition Reimbursement (CTR) model that Howard has developed and tinkered with over the last 3 decades in an effort to maximize its effectiveness for AGM employees."
"In this regard, AGM's CTR program now both charitably encourages, as well as generously supports AGM employees who are interested in going back to school, such that they might either start or complete their college degrees in whatever subjects are important to them, even if the given degree is of no particular benefit to AGM," said Elias. "This type of mentality on Howard's part helps to build a stronger community for everyone."
In fact, so strongly does Howard believe in AGM's CTR model that he has delivered approximately 2 dozen presentations on this topic statewide, under the heading: "College Tuition Reimbursement: A Win! Win! Win! for your Employees, your Business and your Community!"
In brief, such CTR programs leverage federal tax incentives that have been put in place to provide the given company's employees with up to $5,250 per year in educational benefits. However, at AGM, such employees are uniformly encouraged to pursue degrees in any field, as well as from any institution of their choosing. Moreover, at the time of each participants' wage review, Howard has developed a financial reward system whereby such employees receive educational wage increases for each class completed, in addition to their standard wage performance increases. Of course, such generosity on AGM Managements part has become a stimulus for many such AGM employees to continue their long-term educational pursuits, year-after-year.
For example, in the year 2019 alone, 27% of AGM's 125-member workforce (for a total of 34 AGM employees) opted to participate in AGM's CTR program. Interestingly, approximately 60% of such student employees were of Hispanic origin, despite the fact that the Hispanic population at AGM represents no more than 45% of AGM's overall workforce.
Howard's success in getting AGM's Hispanic population to pursue their college educations is due, in part, to AGM's partnership with a local organization called the Southern Arizona Manufacturing Partners (SAMP). As such, since 2014, AGM has annually pledged to hire somewhere between 1 to 4 such "freshly minted" high school graduates who have earlier decided to jumpstart their careers by pursuing machining coursework that is administered by Pima County's Joint Technical Education District (JTED) at both heavily Hispanic "Tucson High" and "Desert View High School". Shortly after bringing them on, AGM provides such employees with the necessary time off they need to continue and complete their "Machine Tool Technology" degrees through Pima Community College. Incidentally, to date, AGM's machinist internship program has been so fruitful that not a single such Hispanic machinist has ever yet chosen to terminate from AGM of their own accord.
Similarly, at Howard's behest, over the last ten years, AGM has served as a "corporate sponsor" for a number of the students (almost all of whom are Hispanic) who attend San Miguel High School (SMHS) in Southwest Tucson. In this regard, such interns "learn the skills necessary to be successful in a professional career while simultaneously earning money to support the cost of their college preparatory educations". Currently, AGM employs six such interns, all of whom work one-day-a-week.
Moreover, Howard has been such a believer in the good that SHMS is doing for these young people, that he has also long served as a member of the SMHS Jobs Committee, whereby he and his fellow committee members do their best "to open up doors" for such students to be provided with employment opportunities at various organization throughout Pima County. What's more, Howard's good friend and fellow-supporter, Jim Click, make joint bi-annual presentations to such fellow area employers, in high hopes that a number of these employers will likewise step forward to become SMHS corporate sponsors.
When asked whether Stewart's advocacy efforts align well with the guiding principles of the THCC, Elias said definitively: "At the moment, I can't think of anyone who is better aligned with the THCC's values and vision than Howard Stewart."
Elias went on to add, "you see, first and foremost, we here at THCC are community advocates. We operate under the philosophy that business leaders should share as well as live their values, rather than just claiming that they have them.
In this regard, "Howard is all about living his values. It's not an act, and it's not something that Howard is doing simply to help grow his business. Rather, he truly cares about his employees and our community".
Morales went on to add: "Howard is an incredible community member that contributes to every single industry and every single area within our community. This is why we, as a chamber, came to the unanimous decision that Howard was the most obvious choice for this award."
Finally, during the brief ceremonial presentation, Morales turned to Howard, and said: "You have been a huge contributor to our community, as well as a terrific friend and a great mentor to me." If fact, I consider you to be "Mr. Tucson!"
In response to having been recognized by key THCC leaders of this honor, Howard responded "I am deeply touched to have been both nominated, as well as recognized, for your chamber's Legacy Award. You know, in many ways, I find Hispanic culture to be the heart and soul of our vibrant Tucson community, what with the fantastic food, the upbeat music and dance, as well as the energetic art and language. What's more, I feel blessed in my career to have made so many countless Hispanic friends and business colleagues along the way, several of whom took the time to be with me today.
Lastly, I believe that a solid education is, in fact, the best way for us to help individuals become all that they can be, as well as to provide them with the necessary knowledge, know-how and skillsets that, one day, might enable them to become the productive citizens and future change-agents that our society so desperately needs."
Howard and other award winners will be officially recognized at THCC's 2022 "Noche de Exitos and Bi-National Awards Gala", which is scheduled to be held November 4th at Casino Del Sol Resort.
---
About Howard N. Stewart
In 1970, AGM was founded by Howard's parents, Roger and Joyce Stewart. The following year, at only 12 years of age, Howard began working at AGM for "the princely sum" of just $1.00 an hour. He continued to work at AGM almost every summer until 1982.
In 1989, Howard returned to AGM in the position of "junior purchasing clerk". In the year 2000, Howard was named AGM's President/CEO. In 2002, the Tucson Metro Chamber named Howard as Tucson's Small Business Leader of the Year.
In 2009, under Howard's leadership, AGM was recognized by the U.S. Chamber of Commerce as "America's Best Small Business", beating out over 4,500 other contenders for this distinction. To date, AGM remains the only Arizona business to have ever received this distinction from the U.S. Chamber of Commerce. In 2018, Howard was named Southern Arizona's CEO of the Year. In 2021, the Arizona Commerce Authority, in concert with the Arizona Technology Council, jointly named Howard as "Arizona's Transformational Leader of the Year.
About AGM Container Controls Inc.
Founded in 1970, AGM is a supplier of pressure, moisture, and logistics management hardware that is beneficial to our nation's aerospace & defense industry. As a result of the passing of the Americans with Disabilities Act, in 1992, Ascension, a division of AGM, entered the wheelchair lift market, whereby AGM has become the designer and manufacturer of the world's best wheelchair lifts for the public facilities and commercial space markets.
Furthermore, in the year 2022, Ascension, became the exclusive North American distributor for a new product called the Omeo personal mobility (wheelchair) device, which is already beginning to change the way many people with disabilities are leading their lives. As such, the Omeo's unique, self-balancing technology enables its users to reclaim their independence and interact with the world around them in a revolutionary new way.
Headquartered in Tucson, Arizona, AGM is a proud, American-owned manufacturing company, which has established an Employee Stock Ownership Plan (ESOP), such that AGM's employees have become employee-owners who own a significant portion of our organization. In fact, such employee-owners have helped AGM Management to drive up the value of our organization by roughly 2,400% in the last 27 years.
Moreover, AGM aspires to be a model, principled company, whereby we do our best to provide for the needs of our employee-owners and their families, as well as to enable such employees to fulfill their personal goals through increasingly rewarding career opportunities and continuing education.